Crystal Clear Music
Jul 03
Album Review - The King Blues - Long Live The Struggle
The King Blues are a band close to everyone's hearts and one that we are very sad to see split. Announcing their split back in April after the release of their final record titled Long Live The Struggle, The King Blueshave been a staple in the modern punk movement of today, speaking out against politicians, governments and banks amongst many, Inspiring the youth of today.
Opening tracks We Are What We Own and We Are The Future ring familiar bells for anyone who has been a fan of the band from the start. With melodies that are comfortable with the group and vocalist Itch apologetically speaking out against our countries government.
Modern Life Has Let Me Down picks up the tempo, becoming a clear highlight from the album. Highlighting the bands origins and clearly showing their influences.
Throughout the record The King Blues lay out some excellent tracks in front of us. With Jason Butler of Letlive on track Cant Bring Me Down providing a hate and anger filled take on the music, the band give 12 angst punk ridden tracks, with stories of modern life and revolutions, this is a definitive part of the bands history and a record which perfectly see's the band out. Long Live The Struggle is a stellar effort and a fitting goodbye.
Long Live The Struggle is out now through Transmission Recordings.
For more on The King Blues;
http://www.facebook.com/thekingblues/info
"Like" us on Facebook;
http://www.facebook.com/CrystalClearMusicUK
Jul 02
Album Review - Memphis May Fire - Challenger
First things first, Challenger is a record without flaws, but saying this doesn't do it any justice for you lot reading this review does it?
If your familiar with any Rise Records band you'll know that they sign very generic bands, but bands which execute their music well and garner a lot of attention. But there is something about Memphis May Fire which makes us wanting to go back for more with every listen.
Vocalist, Matty Mullins, is on brilliant form here and there is something intriguing about him here. Perhaps his delivery is what makes us come back for more. Mullins is so full of passion, anger and raw emotion that you feel what he is screaming his lungs out for alongside him, this is obvious in track Prove Me Right.
Favouring the higher pitched clean vocal techniques and showcases some of his most beautiful vocals in track Miles Away. Throughout the record we're showcased with intense musicianship amongst beautiful vocals, Drummer Jake Garland is ridiculously talented, filling the spot of a typical metal core drummer, he brings his own twist to the record with fills that are just as intense as the lyrics.
Danny Worsnop of Asking Alexandria and Kellin Quinn of Sleeping With Sirens make guest appearances on the record. With Worsnop on track Losing Sight providing a very dark tone to the song and has just upped their audience appeal tenfold. Quinn on track Miles Away fits perfectly, with his note perfect voice complementing Mullins' as the music takes a ballad turn, providing a dynamic take to the song.
Challenger packs one hell of a punch. Full of passion and anger from one of the most beautiful voices in the industry today. You don't have to wait too long to see them on our shores either! The band hit the UK with Of Mice & Men and Secrets in October!
Challenger is out now on Rise Records!
For more on Memphis May Fire;
http://www.facebook.com/MemphisMayFire
"Like" us on Facebook;
http://www.facebook.com/CrystalClearMusicUK
Jun 30
Interview - Dr Acula
We recently got in touch with Kevin (Bass) of Dr.Acula to have a chat about their new album and what they're up to now, here's what he had to say!
·         To start off, can you introduce yourselves and tell us a bit about the band?
 We are Dr. Acula, from Ny/Nj. we started in 2005 and have been through a lot of changes but we are set on this line up and have no plans to change any time soon.
·         So your most recent release, Nation, has literally just come out, what was the process of writing and recording like?
 It was pretty easy going. Wrote the album in the basement of my house with Ricky, Jsse and Bill and then just hit the studio with our producer and got to working.
·         Have you started playing any of the songs live? What has the reception been like to them?
We play 2 new songs as of now but kids seem to really dig them a lot so we definitely will be adding more in as the tour progresses.
·         As a band you're also known to be comical in the sense that samples from Films and TV shows are used in your tracks, how did this come about?
I guess it was a cool concept at the time and only a handful of bands did it. Now the scene is over ran with that sort of thing.
·         You have now also been signed to Victory Records since Slander, how are you finding your time at the label so far?
Victory has been great to us.  They have been a BIG help with everything and just being nice people. They let us do us.
·         We've listened through Nation a few times now and we think it is a killer record! What has influenced the album and what is your favourite track from the record?
I love "the partys over" and it kinda just spells out our message : say and feel how you want and not how other want or expect you to be
Moving on to some different questions
·         What's the craziest thing a fan has ever done or said?
I had a kid in Utah ask me to lunch for no reason, he made me feel completely uncomfortable.
·         Any embarrassing tour stories to share with us?
Hard to pick just one honestly… so many!
·         What music do you listen to yourselves?
In the van we play everything metallica to jedi mind tricks to paramore at any given time.
·         What do you take on tour that you wouldn't want your parents to know about?
Me personally nothing, I just bring clothes and hats. But the other guys, I don't want to know. ha
·         Who are your influences?
A lot of rock and roll and pop punk
·         Do you look up to any other bands?
I look up to Bayside and Taking Back Sunday since they are from around the same area as I am.
·         How is the touring life?
Its hard but totally worth it!
·         Any upcoming tours to announce?
The Legend tour starts mid july. Check our facebook out for updates  https://www.facebook.com/Dr.AculaBAND
·         What's next for Dr.Acula?
You'll know when I know!
Jun 29
Album Review - Dr.Acula - Nation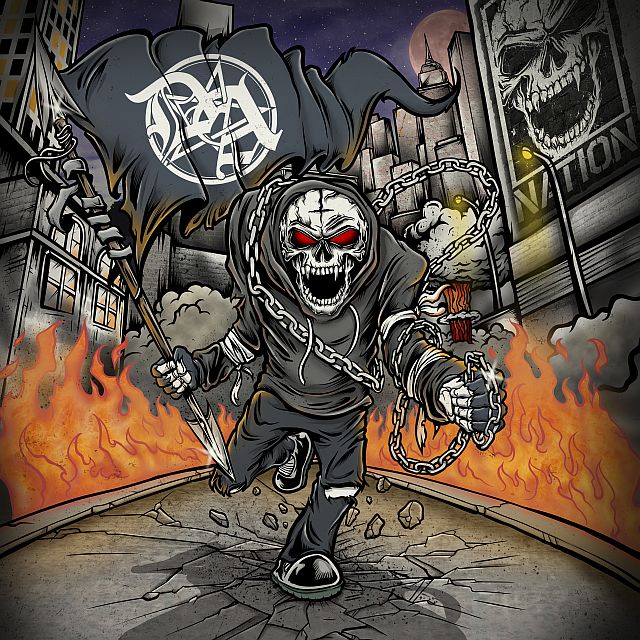 Dr. Acula have been around for a while now, since forming in 2005 they have five albums under their belt, currently signed to renowned label Victory Records and are enjoying success on the touring circuit currently. Their newly released record, Nation, is their latest offering of Party Metalcore, with their straight up give-no-fuck attitude, it has given us an enjoyable listen.
We first came across Dr.Acula when their fourth record, Slander, dropped through Victory Records, their first release through the label. With breakdowns lathering every inch of each track and clips used from films such as Zombieland, Slander was fresh and this time around they're doing the same thing.
Lyrically the album represents their attitude in which they are known for, from calling out the haters to even bashing religion but of course adding their comical elements to these lyrics. Structurally they have made a slight change toward their musicalities this time around. Instead of using very chug type riffs and breakdowns, they have opted for a more melodic based metal sound, with vocal breakdowns which they make very good use of here.
One thing we like about Dr.Acula is having dual vocalists, no cleans but just screams and growls, both sharing highs and lows through their vocal performances.
Nation is a solid and enjoyable release from the Victory party-metallers. Opting for a change in structure and sound this time around has freshened their sound and in our opinion given Dr.Acula more accessibility. Be sure to see them everywhere this year, there is no stopping these guys!
Nationis out now through Victory Record and available from iTunes and all good record stores!
For more on Dr.Acula;
http://www.facebook.com/Dr.AculaBAND
"Like" us on Facebook;
http://www.facebook.com/CrystalClearMusicUK
Jun 25
[video]
Jun 19
Continents (UK) sign to Victory Records (US)!
Victory Records, in Chicago, IL (USA), welcomes dynamic South Wales, UK Metal/Hardcore outfit CONTINENTS, to its roster. Watch the full announcement video here. Kerrang magazine describes CONTINENTS sound as, "Energy-fueled epic-core with lots of aggression, a healthy blend of raw shouts and low end growls and foot stomping hooks." Their music and intense stage presence has separated them from the ever-growing UK Metal/Hardcore scene.
"We've always tried to put our own passion for our music before external influence, the most important thing for us is that we enjoy the music we play, and if other people enjoy it too then that's awesome," said Vocalist, Philip Cross. "We like to mix elements of our favorite styles and influences, and then put our own perspective on things to see where it takes us."  
Formed in 2010, CONTINENTS quickly established themselves within the UK music scene. They are five self-proclaimed "lads with a party attitude who love getting groups of people into a room who share their passion for music." In concert, this UK bunch throws a blistering barrage of songs and energy at the crowd which is evident in their first music video from the band's self-released single "Trials"; which received over 10,000 views on YouTube, in just the first few days. Thanks to "Trials", in November the band was voted as a favorite YouTube UK Metal Act and was featured on the YouTube home page.
In Remission, The Great & Shallow EP Out Now
The Great & Shallow,the excellent EP from Bedfordshire's In Remission is out now and available to download through the following links;
http://www.amazon.co.uk/The-Great-and-Shallow/dp/B0085HU89S

http://www.7digital.com/artist/in-remission/release/the-great-and-shallow

We loved the EP, so we're sure that you guys will too! Make sure to pick up a copy!
For more on In Remission;
http://www.facebook.com/inrem.music
"Like" us on Facebook;
http://www.facebook.com/CrystalClearMusicUK
Jun 18
That's Outrageous sign to InVogue Records!
InVogue Records is extremely excited to announce the signing of Poughkeepsie, NY's That's Outrageous! The band is currently in the studio recording their sophomore album that follows up last summer's "Teenage Scream" (out now on Rise Records).  The new record is due out this October.  That's Outrageous! mixes melodic pop and intense hardcore that appeals to a wide audience in the music scene. To get a taste of the new record InVogue is releasing the single "Obliviate" June 26, 2012.  The band plans on hitting the road this fall in support of the yet to be titled album.
For more on That's Outrageous;
http://www.facebook.com/thatsoutrageous

"Like" us on Facebook;
http://www.facebook.com/CrystalClearMusicUK

Jun 17
EP Review - River City Ransom - Self Titled
Hailing from York, River City Ransom are on to something good, they're songs are fast and brilliantly in your face, packing a lot of punch and some good ol' southern riffs! Don your finest lumberjack clothes, were off into the wilderness!
Layered with typical rock rhythms and hearty southern sounding chords that would make any Every Time I Die fan jump with joy. Tracks This Day And Age and Attack Attack! Show these elements and get the EP off to a brilliant start, with fast punk screams and cleans that show that there is some incredible UK talent out there.
Another thing that has us excited about this record is bass tone that litters the whole record, packing a huge punch and making an atmosphere that makes for a kick ass listen every time we hit the replay button! This is finely shown on track Strength From The Sun.
River City Ransom is a brilliant record from the York lads. With elements drawn from their influences, Alexisonfire and Every Time I Die to name a few, with their own twist on the music bringing across a sound that just makes us want to smash everything around us! A fine example of the UK music scene today!
For more on River City Ransom;
http://www.facebook.com/RCROFFICIAL
"Like" us on Facebook;
http://www.facebook.com/CrystalClearMusicUK
Jun 16
[video]