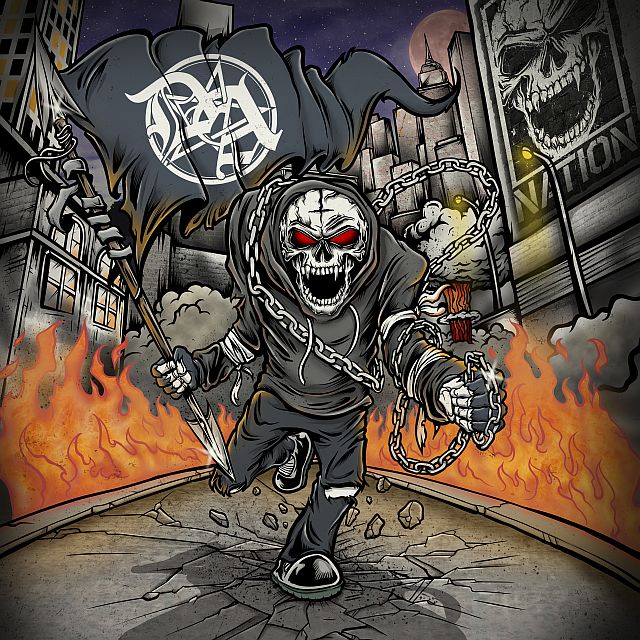 Dr. Acula have been around for a while now, since forming in 2005 they have five albums under their belt, currently signed to renowned label Victory Records and are enjoying success on the touring circuit currently. Their newly released record, Nation, is their latest offering of Party Metalcore, with their straight up give-no-fuck attitude, it has given us an enjoyable listen.
We first came across Dr.Acula when their fourth record, Slander, dropped through Victory Records, their first release through the label. With breakdowns lathering every inch of each track and clips used from films such as Zombieland, Slander was fresh and this time around they're doing the same thing.
Lyrically the album represents their attitude in which they are known for, from calling out the haters to even bashing religion but of course adding their comical elements to these lyrics. Structurally they have made a slight change toward their musicalities this time around. Instead of using very chug type riffs and breakdowns, they have opted for a more melodic based metal sound, with vocal breakdowns which they make very good use of here.
One thing we like about Dr.Acula is having dual vocalists, no cleans but just screams and growls, both sharing highs and lows through their vocal performances.
Nation is a solid and enjoyable release from the Victory party-metallers. Opting for a change in structure and sound this time around has freshened their sound and in our opinion given Dr.Acula more accessibility. Be sure to see them everywhere this year, there is no stopping these guys!
Nationis out now through Victory Record and available from iTunes and all good record stores!
For more on Dr.Acula;
http://www.facebook.com/Dr.AculaBAND
"Like" us on Facebook;